Cabot Issues Recalls for Wood Cleaner and Wood Brightener with Spray Pump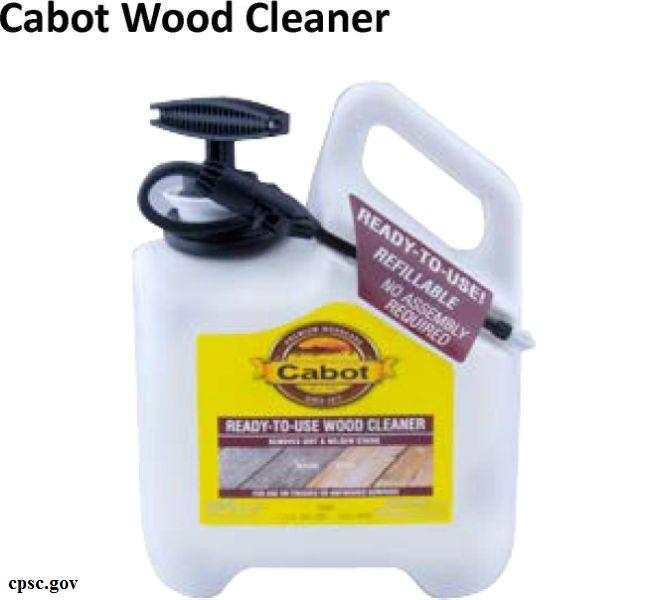 On September 27, 2012, the US Consumer Product Safety Commission announced that Cabot Stains was issuing a recall for the wood cleaner and wood brightener products that come in a spray pump because there is a risk of irritation and a burn hazard. Consumers need to stop using this product right away.
The CPSC reports that the spray pump can lose its seal and result in the product leaking. If the chemicals come into contact with the skin or eyes, they can cause burns and serious injuries. As of now, three total leaks have been reported, but no injuries have been reported so far.
Both the wood clean and the wood brightener products come in white tanks that carry 1.3 gallons of the products. The white tanks have a black pump and a sprayer hose, and the yellow Cabot label appears on the front of the tank. You can find the instructions and the UPC codes on the back of the tank. The UPC code for the wood cleaner bottle is 080351810503, and the UPC for the wood brightener bottle is 080351810497.
The products were sold from March 2011 to June 2012 for around $25 per tank. The following stores sold the product: Ace Hardware, Do it Best, Farm and Fleet, Lowe's Home Improvement, United Hardware, and other smaller hardware stores. There are an estimated 17,500 wood cleaner products and 10,900 wood brightener products.
It is illegal to attempt to resell or resell a recalled product. You need to stop using this product immediately and return it to the place of purchase for a full refund.
If you have additional questions, you can call Cabot at (877) 755-3336.
Source: Consumer Product Safety Commission
Comments
comments