Warnings of Intestinomicina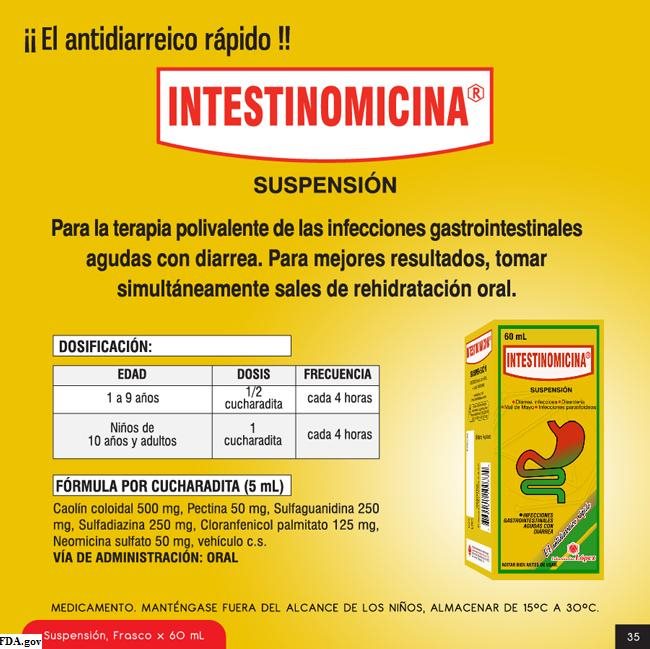 One September 18, 2012, the Food and Drug Administration issued a warning to consumers to avoid using a drug called Intestinomicina. The drug is manufactured in El Salvador and is marketed to treat infectious diarrhea and other gastrointestinal infections.
The FDA reports that the drug contains an ingredient called chloramphenicol. Oral forms of the ingredients were pulled from U.S. markets in July of 2012. The most threatening injury connected to oral chloramphenicol is bone marrow toxicity which happens when the body fails to produce enough red blood cells, white blood cells, or platelets. In some cases, the toxicity is reversible, but the condition can lead to death in some cases as well.
Intestinomicina also contains a chemical called neomycin, which is an antibiotic often found in topical medications and sulfonamides, often referred to as sulfa drugs. The chemical is usually safe, but it has the ability to cause rashes, hives, and even severe or life-threatening reactions in some cases.
The highest of using Intestinomicina is having the drug react with other medications. Your doctor will never suggest using this drug. If you have it in your possession, you need to discard the product.
The FDA states that Intestinomicina is often labeled in Spanish and lists the harmful ingredient as "chloramfenicol palmitato." The ingredient may be listed in English as well. The drug is often found in tablet and liquid forms, and the product is manufactured by Laboratorios Lopez. Before the recall, the drug was mainly found in international grocery stores in the United States that offer South and Central American products and food.
Consumers and health care professionals need to report adverse events related to the use of Intestinomicina to the FDA. You can call by phone at 800-FDA-1088 or you can make a report online at the following link: .
Source: Food and Drug Administration
Comments
comments