Fleece Hoodie and T-Shirt Sets Recalled from Target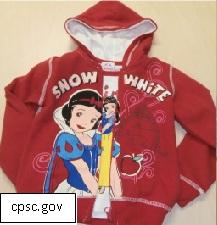 On October 16, 2012, the Consumer Product Safety Commission announced that it was recalling three different fleece hoodie and t-Shirt sets sold only at Target because these products contain high levels of lead paint. Children might chew on the items containing lead paint and put their health at risk.

The specific name of the sets is Fleece Hoodie and T-Shirt sets. They were manufactured in Pakistan and shipped to Children's Apparel Network, Ltd in New York, New York. The sets were sold across the United States in Target stores and on Target.com from October 2011 to December of 2011. The fleece hoodie and t-shit sets sold for about $18.

The recalled products are sold in two pieces, a fleece hoodie and t-shirt, which are color coordinated. The color combinations include red and white, gray and red, and black and blue. They range in sizes from 12M to 5T, and the hoodies have one of three different Disney characters on the front. The red fleece hoodie has Snow White on the front, the grey fleece hoodie has Mickey on the front, and the blue fleece hoodie has Cars on the front.

The tag on the inside of the side arm of the hoodie has the number "RN 16435" and one of the following identification numbers as well:

-Red Fleece Hoodie: DP4253B
-Grey Fleece Hoodie: J4821
-Blue Fleece Hoodie: J4820-A

The products are being recalled because the zipper on the fleece hoodie contains high levels of lead—in direct violation of the federal lead paint standard.

Consumers must stop letting children use the products immediately. You can return the products to any Target in the United States for a full refund.

If you have more questions about the recall, you can call the Children's Apparel Network at 1-800-919-1917.

Source: U.S. Consumer Product Safety Commission

Comments
comments