Graco Issues Recall of Classic Wood Highchairs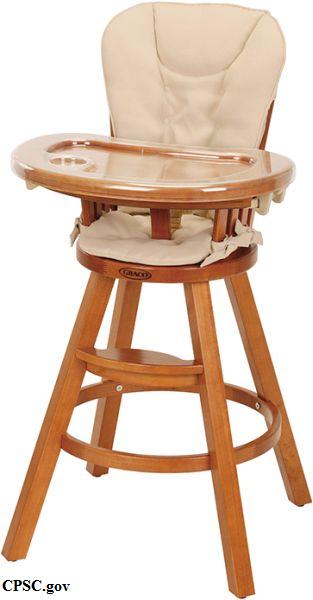 On October 9, 2012, the Consumer Product Safety Commission and Health Canada announced that Graco is recalling their classic wood highchairs because of a fall hazard. There have been reports of children falling when the seat detaches from the base.
The CPSC announced that the Graco brand wood highchairs come in three different wood finishes. The high chair comes with the beige fabric seat cover, and there is a top seat, bottom legs and removable tray that make up the high chair. The recalled high chairs have one of the following model numbers:
- 3C00BPN
- 3C00BPN TC
- 3C00CHY
- 3C00CHY TC
- 3C00CPO
- 3C00CPO TC
Consumers can find the model number on a label underneath the seat.
So far, Graco has received 58 different reports of the seats loosening or completely detaching from the base of the high chair. A total of 9 reports indicated that the children fell from the high chair as the seat detached. None of the children sustained serious injuries, but some did sustain bumps, bruises and scratches. One concussion was reported in Canada.
The recalled products are manufactured in China and imported to Graco Children's Products Inc. in Atlanta, Georgia. The CPSC estimates that about 86,000 products were recalled in the United States and about 3,400 products were recalled in Canada. The products are sold at Babies R Us, the Burlington Coat Factory and other retail stores across the United States. The recalled products were also sold on Target.com and Walmart.com between September 2007 and December 2010 for around $130.00.
The CPSC states that consumers affected by the recall need to stop using the product immediately. The consumers can contact Graco at (800) 345-4109 and receive a free repair kit. Do not attempt to resell or sell a recalled product.
Source: U.S. Consumer Product Safety Commission
Comments
comments