Sharper Image USB Wall Chargers Recalled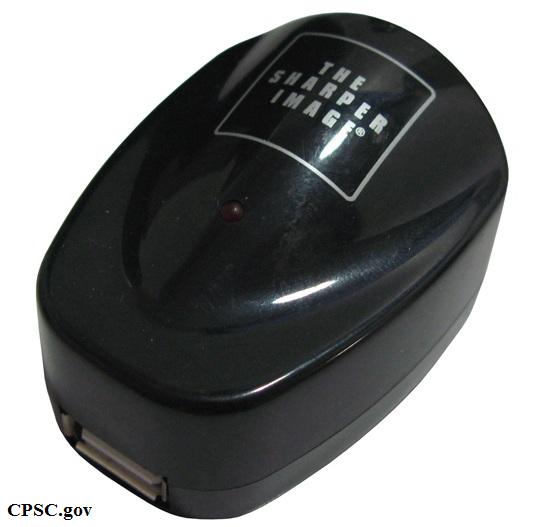 On October 10, 2012, the Consumer Product Safety Commission announced that Atomi is recalling Sharper Image USB was chargers because of a fire and burn hazard. Consumers are encouraged to stop using this product immediately.
The recall is issued for Sharper Image USB wall chargers that have either of the following model numbers: TSI202 or TSI260. The model number is located on the bottom of the charger. The wall chargers are sold so a customer can charge any device like an MP3 player or phone that uses a USB connection.
The chargers come in black plastic and are about 2 ½ inches high by 1 ½ inches wide. "The Sharper Image" is printed on the top of the charger.
The CPSC reports that the chargers can overheat and release smoke which creates a direct fire and burn hazard. Atomi has already received 13 reports of the chargers overheating, and some consumers have reported smoke and acrid smells coming out of the product as well. So far, no injuries have occurred.
The CPSC reports that about 80,000 products are affected by the recall. The products are manufactured in China and imported to Atomi in New York, New York. The charger was then sold at the Burlington Coat Factory, Tuesday Morning, and TJ Maxx stores. Consumers could also buy the charger on the internet from October 2011 to September 2012 for about $8 to $13.
Consumers need to stop using this product immediately and contact Atomi in order to receive instructions for returning the product and obtaining a full refund. You can contact Atomi at (800) 790-1440 between 9 a.m. and 5 p.m. on Monday through Friday. You can also email Atomi at info@atominy.com.
Do not attempt to resell or resell a recalled product. Reselling a recalled product is illegal.
Source: U.S. Consumer Product Safety Commission
Comments
comments